Air Barrier Silicone Seal Strip Elastomeric Coating
Air Barrier Silicone Seal Strip Elastomeric Coating

Window, Door and Isulated Glass Manufacture Sealants
Window, Door and Isulated Glass Manufacture Sealants

DOW Silicones Corporation – Featured Product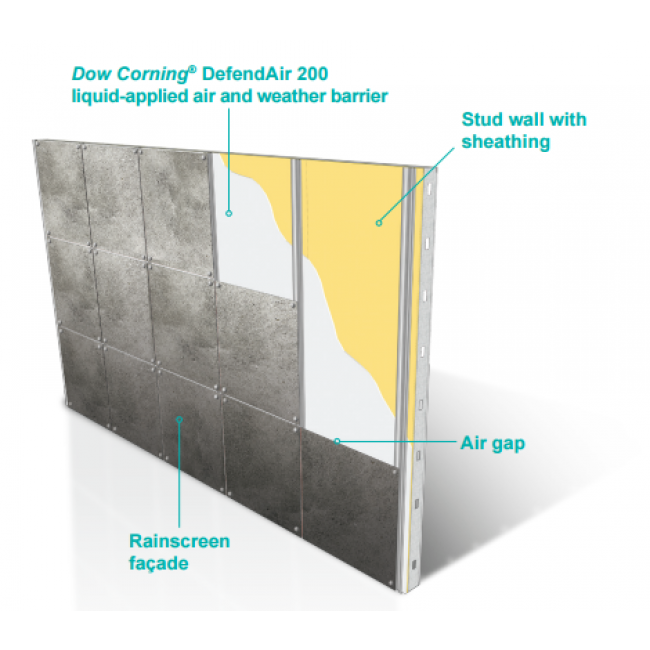 DOW Silicones Corporation DefendAir 200 Silicone Liquid Applied Air and Weather Barrier
Uncontrolled air leakage can be a significant contributor to increased heating and cooling costs.
DOW Silicones Corporation DefendAir 200 helps reduce energy consumption, providing fast, easy
and effective protection from air infiltration and water penetration.
DOW Silicones Corporation DefendAir 200 is a 100% silicone liquid-applied air and water barrier.
Long-term UV resistance means no performance issues from extended sun exposure –
whether due to unanticipated construction delays prior to cladding installation or to
normal exposure in rainscreen applications.
The vapor-permeable, one-component, water-based coating dries to form a flexible
membrane that is impervious to water but has the ability to "breathe," allowing water vapor
to escape from inside the substrate.
• ABAA evaluated
• Airtight performance
exceeding industry
standards
• Long-term UV resistance
• Passes NFPA 285 assembly
testing
• Complete offering of
compatible accessory
materials
• Vapor-permeable and
breathable
• One-coat spray application;
may also be roller applied
• Water-based, low-VOC
formulation ideal for green
constructions
• Can be applied at
temperatures as low as
20°F (-7°C)
• Primerless adhesion to most
construction substrates