Window and Door Shop Fabrication / Silicone Adhesion Test
Founded in 1862, Pecora Corporation® is an American manufacturer of architectural weatherproofing and building sealant products.
Full line of silicone, urethane and latex sealants
ISO 9001:2008 Certified
Wide range of building sealant properties for Commercial/OEM Markets
Innovative product development and custom color matching
Private label capabilities
Pecora offers a complete line of high performance glass and glazing sealants for demanding structural and non-structural applications that are suitable for factory or field use. Pecora's glazing solutions include products with high green strength, long lasting bonds to a variety of substrates, and Pecora's industry leading non-staining technology (NST).
Pecora – Featured Product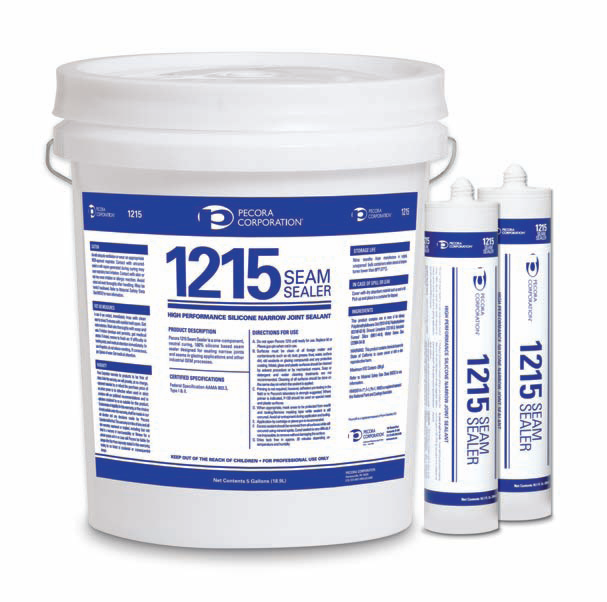 Introducing, Pecora 1215 Seam Sealer
Now there is a superior silicone alternative to the traditional acrylic narrow joint seam sealer.
Pecora 1215 Seam Sealer is a VOC compliant, 100% silicone sealant designed for mechanically
fixed narrow corner, rivet and butt joint seams as well as screw heads in vinyl and aluminum
window fenestration. The moisture cure silicone formula reduces noxious odors on the
production line while providing enhanced productivity and dependable performance.
Colors:
• Translucent (#610)
• Tru-white (#345)
• Black (#012)
Custom colors available in
30 gallon minimum batch order.
Packaging:
• 10.1 oz. (300 ml.) cartridges
• 5 gallon (18.9 L) pails
• 50 gallon (189 L) drum
Shelf Life:
12 months from date of
manufacture in original,
unopened containers when
stored at temperatures lower
than 80°F (27°C).
Window and Door Shop Fabrication / Silicone Adhesion Test